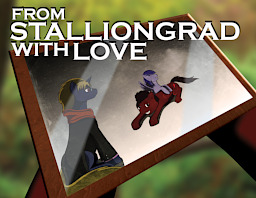 Source
This story is a sequel to Where Loyalties Lie: Honor Guard
---
Honor Guard Captain Red Ink is a proud warrior, the son of the Stalliongradi Tsar, and something of a legend amongst the Equestrian Guard. Until his mistake, some would have said he was atop the world. But a reckless violent streak and a disrespect for the common pony carry him away from his lofty post aside Celestia.
He expected a frigid post on the dragon border to carry the rest of his days. Compared to that fate, delivering a letter to the Princess's student in Ponyville seems a delightfully easy task. If he had known the fate the Princess had prepared for him in the tiny city, he might well have exiled himself. Fate can be cruel indeed to a warrior staring down at a nearly blank piece of parchment, knowing his life depends on filling it with words. The beginning, after all, is always so very easy.
"Dear Princess Celestia..."
A Price of Loyalty story.
A spin-off of Where Loyalties Lie, though you don't need to have read it.
Chapters (12)