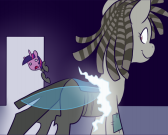 From Twilight Sparkle's Secret Shipfic Folder
-----
K'larra was a deep cover changeling sent to spy on Ponyville in preparation for the invasion. Sazzix was a survivor of the invasion that slipped past the wards and posed as an ordinary pony.
They fell in love.
Then they figured out they were both changelings.
Then they got drunk.
Chapters (1)