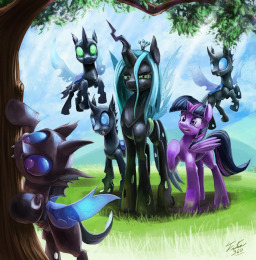 Source
"Dear Princess Celestia, as your (former) most faithful student, I feel I have to warn you that this is probably a trap. Chrysalis cannot possibly be serious about this. Why would anyone, much less her, want to shoot a documentary on us?"
Chrysalis, queen of all the changeling hives and infinitely cunning architect of their plans to conquer Equestria, has a problem: She knows diddly-squat about ponies. But Chrysalis is cleverer than most—or all—changelings, and she's already devised a brilliant solution to this trifling issue: Make a movie about them.
Tenth place winner in Equestria Daily's Outside Insight contest.
Chapters (5)