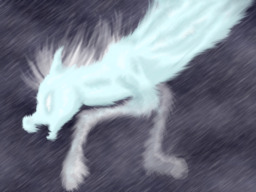 Source
I am Cold, swirling snow that turns ponies against each other, searing ice that freezes them solid. I am Survivor, the one the Friendfyre spell didn't catch, an exception that proves an impossible rule. I am Fear, Frustration, Anger, Hatred, every emotion my Creator has ever felt. I am her Future. I am her Past.
I am Demon, and Clover the Clever is my Master.
---
Winner of Equestria Daily's Outside Insight Summer Fanfic Contest.
---
Featured in The Royal Canterlot Library on March 6th, 2015.
Chapters (5)