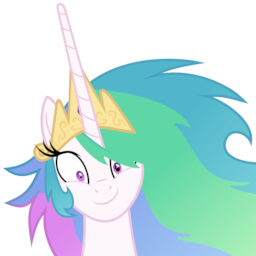 Princess Celestia has been planning for this day for years: the return of Nightmare Moon, the restoration of the Elements of Harmony, and the ushering of Equestria into a new age of friendship and love. Now that it's finally arrived, all she has to do is wait for Twilight to get to Ponyville, make some friends, hunt down the Elements, and save the...
Wait, what'd that letter say?
She didn't get on the chariot?
She went to whose party instead?
Oh. Oh, this could be bad. And more importantly, it's gonna need some hooves-on interference from Celestia to get her master plan back on track. But it'll probably all work out in the end. After all, how big a deal could one party be?
Third-place finalist in Aragon's "Comedy (Is Serious Business)" contest
Chapters (2)