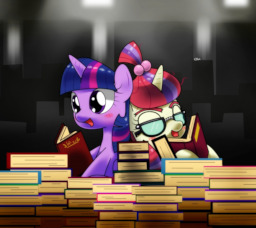 Source
Moondancer may know the principles of magic and science like the back of her hoof, but when it comes to the principles of friendship, she's objectively hopeless. Even so, there's one special unicorn who she's shared a close connection with since foalhood.
With the encouragement of her almost-friend Minuette, and the guidance of somepony she never expected, Moondancer is prepared to do everything in her power to find out just how close that connection truly is.
All she has to do is overcome her fear of putting herself out there...
...and get Twilight Sparkle's attention while she's at it.
---
Editing duties courtesy of nanashi_jones. Cover art graciously provided by hoyeechun.
Special thanks to Fahrenheit for extra input and motivation.
Chapters (5)