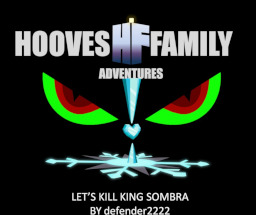 Source
This story is a sequel to The Winds of Winter: A Hooves Family Adventure
---
What should have been a simply family vacation goes completely haywire when the TARDIS deposits the Doctor, his wife Derpy, and their daughter Dinky in the Crystal Empire thousands of years in the past. Going home isn't an option though, as their is a dark plot brewing in the heart of the Empire and it will be up to the Hooves to solve the mystery.
Who is trying to kill the beloved ruler of the Crystal Empire, the noble King Sombra?
This story is the official start of Series 1 of the Hooves Family Adventures.
Chapters (4)