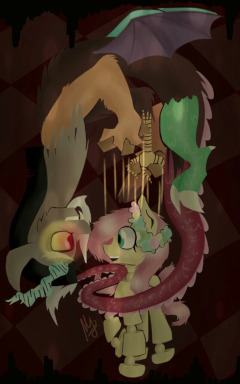 Source
Fluttershy has been having a recurring nightmare about her friends begging her to 'not trust him' and to 'help them before it's too late'.
At first, it seems that perhaps this is just one of those nightmares that Fluttershy has all the time and it's nothing to worry about. Discord assists her in erasing the unpleasant dream memories from her mind.
Yet, this dream simply won't be forgotten.
Fluttershy is then faced with the question...is seeing really believing, or can she truly not believe her eyes?
(This story takes place sometime after Princess Twilight Sparkle and before Twilight's Kingdom.
It was written after Twilight's Kingdom premiered and before Equestria Girls: Rainbow Rocks premiered. Any similarities are purely coincidental.
Furthermore, the relationship between Discord and Fluttershy in this story is very much platonic.)
Chapters (1)