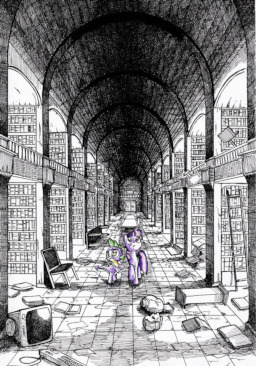 A post-apocalyptic story about exploring ruins, the mistakes of another civilization, and memory.
No one must ever know,
This land where we must go,
They hoped and shared their love,
Yet death rained from above,
The scars of passing linger on,
Through empty husks and unheard songs.
Although they now live in my heart,
The truth still hurts...where do I start?-Twilight Sparkle
Coverart by this guy who is awesome. THIS GUY Also, major thanks to Luna-tic for helping me edit this sucker! Perhaps even bigger thanks to Obabscribbler who made a radio play of it. You can find that radio play HERE!
Chapters (1)