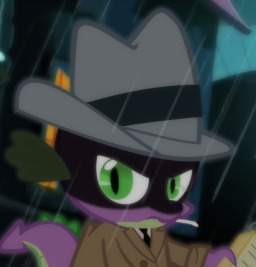 "Down these mean streets a dragon must go who is not himself mean, who is neither tarnished nor afraid. He is the hero; he is everything."
The Case of the Diamond Dress comes to a dramatic conclusion, as Spike the Dragon (Private Eye) makes a decision that will change his life, and the lives of everypony who lives in the seedy heart of The Big Muffin. Part 9 of 9*.
A novel by Penny Dreadful, creator of the High Noon: Applejack series.
*Due to legal reasons, parts 1 through 8 of Here's Looking at You Spike cannot be bought, sold, or read within the borders of Equestria, Earth, or nearby countries. No refunds.
---
Cover modified from this picture. This story was written as part of a writing prompt for Bean's Writing Group.
Chapters (1)