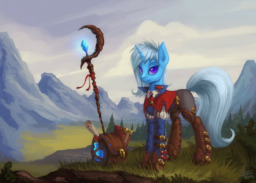 Source
This story is a sequel to Trixie's Great and Powerful Adventure
---
When Trixie Lulamoon found herself lost in the distant past, she had no idea how to get back. And so, she decided to make the most of it. Follow her year-long sojourn through the ancient past of Equestria, in her own words, as she somehow manages to found a rebellion, teach a child the ways of magic, and make serious bank off a populace that has never seen a proper Showpony performance before!
Foreword by AK Yearling, author of the famous Daring Do series.
---
Part of the Anarchyverse.
Featured: 4/1/2020... which fits Trixie so well...
Featured: 7/9/2021
Chapters (16)