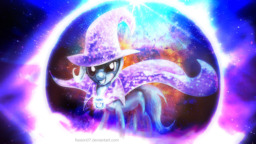 Source
Things haven't exactly gone well for Trixie. Ever since the Alicorn Amulet incident she has seen her own fortunes shrink while Twilight's continues to soar. Now Twilight is an Alicorn and Trixie feels left behind. But Trixie has a plan; one Discord is all too willing to aid her in. For a price.
Note: (Immortal Twilight)
Takes place shortly after the defeat of Tirek.
Early chapters Primarily Proofread by Auramane and Slrvertigo. Mid to late chapters edited by myself.
Much thanks to Crowscrowcrow for help along the way with some scenes and ideas.
Reviewed by the Mighty Paul!
Chapters (15)