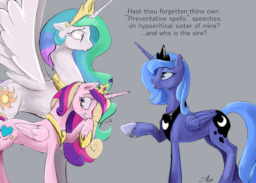 Source
Cadance didn't know what to expect when her formerly banished Aunt Luna returned from her thousand year banishment. But, she's quite entertained by the hilarity. Especially if it means a chance to play a little joke.
Edited by Habanc. Preread by The Albinocorn, Foals Errand, and Timaeus
Cover art was done by Silfoe and used with permission! In fact, this fic is a gift for her!
Chapters (1)