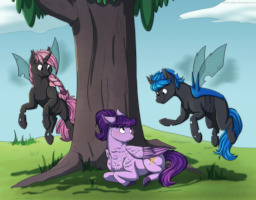 Source
There is a hidden village deep within the untamed forest surrounding Neighagara Falls. Should one ever journey to this village, those who live there will welcome them for a simple price: love.
When the village accepts a new family from Cloudsdale, a not-quite-altruistic pair of changeling siblings offer a young filly friendship and a chance to find her place in the strange village she hopes to call home.
New cover art done by Arcticwaters.
Chapters (52)