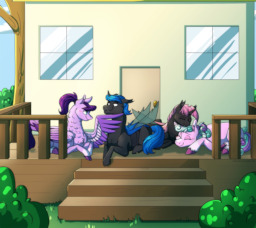 Source
This story is a sequel to The Village Called Respite
---
That little filly from Cloudsdale has blossomed into a true mare of Respite with the help of those not-quite altruistic twins. Joined by their bubbly friend, Toola Roola, they're ready to take their first steps into adulthood. But outside the village gates, the world is changing fast.
Can Sure Stroke and her friends keep up? Or will their happy life in that village hidden in the untamed Neighagara Forest take a turn as the world comes knocking at their door?
Cover art by Arcticwaters.
Chapters (19)