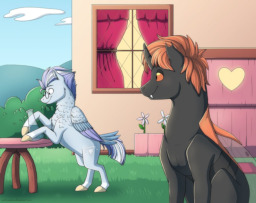 Source
This story is a sequel to The Village Called Respite
---
Of the four great hives, the Enchanters are held as the most powerful in their ability to charm and wrap ponies around their hooves, coaxing them to walk into their web. But sometimes, sometimes, a pony does manage to turn the tables, and enchant one of these masters of charm and sensuous wiles.
If it means a chance to hold that colt in his hooves, Maple will quite happily send word to his parents back in Paradise. This handsome pegasus with a lovely periwinkle coat, comically long name, and eyes of molten gold stole his heart the moment he stepped hoof in Respite.
Preread by Rossby Waves, Timaeus, and Wing.
Cover art by Arcticwaters.
Chapters (4)