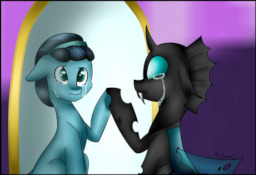 Source
Flat teeth or fangs? Velvety smooth coat or firm carapace? Mane or headfin?
Thorax frets over which face he wishes to show the crystal ponies his age. Fortunately, there's somepony willing to offer a word or two of comfort and support, as well as teach him a life lesson that will stick with him forever.
Preread by Fahrenheit and Timaeus.
Loosely inspired by this piece by Starshade001. Used as cover art with permission from the artist.
Chapters (1)