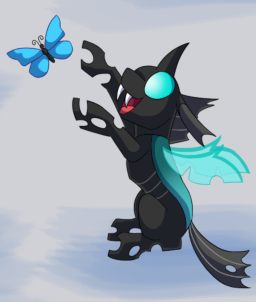 It's Thorax's first crystal faire. It's amazing - it's absolutely spectacular, breath-taking, and the love that the crystal heart emanates on the day feels like it could keep him fed for a whole year. It should be the most fantastic thing he has seen all year! And yet...
---
"That's a stupid question." Pharynx rolled his eyes, while coming over to look at the markings Thorax had made in the dirt of their room in the hive. "I think, you dummy, that you can literally transform into any pony that you want."
"Plus, why would you have wanted to been a pony in the first place? Being a changeling is the best." He said, puffing up his own chest, before scowling down at the drawing of a pony that Thorax had made, before scraping his own hoof in it, swiping the dirt right back into place over the pale imitation of a pony, before roughly nudging Thorax.
"... Right." Thorax said, smiling slightly at his brother despite the rough-housing, and the comments as he looked down at the dirt where his drawing had been. "I don't really know why I would want to be one," he lied, as he got up from the position he was laying down in, going to follow his brother.
---
Or becoming a part of something you dreamed of, but never thought you could really have.
Secret Santa gift for Dashie04
Chapters (1)