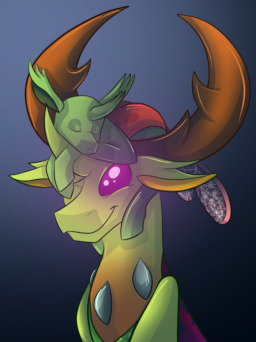 Source
Standing on the ruins of Chrysalis's fallen empire, newly-crowned King Thorax has a long overdue meeting with his former peers. Amidst their discussions, the reborn changelings are met by a coal nymph, forgotten in the hive's nursery. Scared and confused, the young drone shuts down towards all but Thorax, who consoles the nymph, and demonstrates the power of sharing love between changelings.
---
* Edited by Double R Forrest.
* Part of the Love Bug Continuity!
* Story artwork by Percy-McMurphy.
Chapters (1)