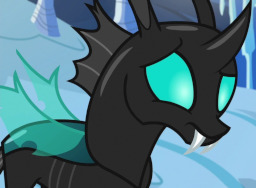 Source
This story is a sequel to The Face I'll Wear
---
Dear Small Pony Book,
Hello. My name is Thorax. I am a changeling formerly of the Badlands Hive, ruled by the terrible Queen Chrysalis. Nowadays, I am fortunate to call the Crystal Empire home, and their Royal Family my friends.
Since I'm rather new to living in pony society—without orders to infiltrate, of course—my new friends have been doing their very best to help me get acclimated to this strange, alien way of life. To this end, Princess Cadence has instructed me to tell you of my experiences so that we might use this as time to reflect together. However, I do find it strange. How am I to discuss my day to day interactions with a book? Especially one without a name? You can't not have a name, that would just be rude. So, I will just have to figure one out for you.
I'm not sure why Cadence is laughing at that, or why Shining Armor is groaning. This is a very serious issue.
These ponies are strange. But I don't think I'd have them any other way.
---
A little thing for me to fiddle with when I'm bored. Updates will likely be sporadic. Tagged as a prequel/sequel to The Face I'll Wear because it will explore some of the same themes and will show events before and after the story.
Preread by Timaeus.
Chapters (20)