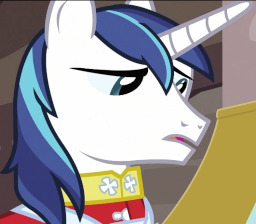 Source
Nopony ever said being Captain of the Guard and prince of a long lost empire was easy, but Shining Armor never imagined having to deal with a problem quite like this. Apologizing to the new king of changelings, Thorax.
With Thorax set to take the throne and rule over the new changeling hive, he arranges a visit to the Crystal Empire to seek guidance from Prince Shining Armor and Princess Cadence. And Shining realizes now he must apologize to Thorax for what unfolded the last time the two met.
Can Shining Armor prove to Thorax that he has learned his lesson, and what is Thorax's real reason for coming to see Shining on such short notice?
(Takes places before "Celestial Advice". Proofread on Deviant Art by Smity1038.)
Chapters (1)