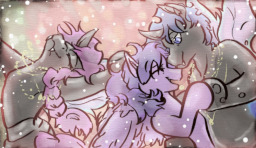 Source
This story is a sequel to The Village Called Respite
---
A special day for two races brings about a flurry of questions from Respite's newest filly before the village gathers to decorate the Hearth's Warming tree and dance the night away.
Just relax, silly Doodle. It'll all make sense in due time. The terrible twins are just happy to tell you all about their traditions before they drag you close to the fire to dance and laugh and sing within the Faerie circle.
Preread by Rossby Waves and Zodiacspear.
Artwork also by Rossby Waves.
Written for Cynewulf's Worldbuilding Contest.
Chapters (1)