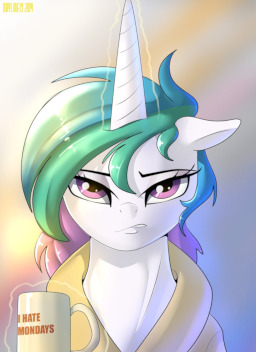 Source
Noticing her Princess' plight, the kitchen mare helpfully offers some of Luna's "special brew" to jumpstart Celestia's day. Chaos ensues when an overly percolated princess can't handle her caffeine!
(Rated "Teen" for the single use of one naughty word.)
Daybreak's story is told here in Sometimes It Takes a Double Shot!

(Many thanks to CaptainBron3y for this live reading!)
Don't miss the unofficial sequel "A Princess Needs her Coffee", a lovely story by my wonderful friend Broman.
Chapters (1)