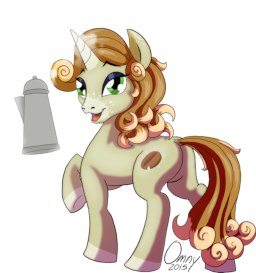 Source
You first met her in "The Sunbutt Also Rises." Now, find out how poor Daybreak came to be the one to blame for the weirdest day in Equestria's history!
Daybreak Dazzler has the best job in the world: Official Caffeinator of Canterlot Castle, and Personal Caffeine Liaison to Princess Luna.
Her life was not always this glamorous, however, and her journey from unknown barista to the Wizard of Wakeup was long and arduous. Fraught with frustrations and setbacks, this Miraculous Mare of the Most Marvelous Mocha refused to stay down.
Her story starts in the rainy downtown streets of Seaddle, at a little shop called Starbits...
Not enough Daybreak? Read her continuing adventures in "A Princess Needs her Coffee", a lovely story by my wonderful friend Broman.
(Artwork again by the wonderful Omny87)
Chapters (1)