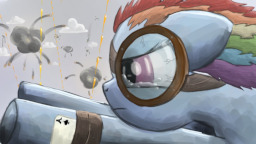 Source
For many years, citizens of Equestria have lived in peace and happiness, protected by the princesses and the bearers of Elements of Harmony; but soon, everything will change. This time there are no villains or unspeakable dangers; there's just war, hate, and ponies giving and taking lives. From the streets of Detrot to the Royal Palace in Canterlot, each pony will rise up against his fellow pony, and one of them will not rise up to see another day.
Also has a spin-off, called The Nest
Warning: Beware of spoilers in the comments! The story contains swearing and gore.
Now with a TVTropes page!
Credits:
Preread by TheSheepMaster, guy12389 and The11thWonder
Proofread by Vrilix and Tired Old Man.
Edited by Xephos and Time Paradox
Cover image by vovab. Used with permission.
Edit 4.03.2014: New version of the first chapter, fixed pacing and OOCness.
Chapters (29)