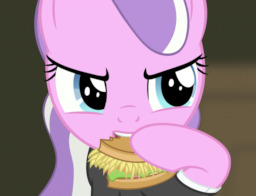 "So... Where do you usually hang out?"
Little did Diamond Tiara know that her innocent question would spur an avalanche of strange encounters, bizarre conversations, and weird events revolving around a certain fast food establishment. Will hanging out with some of the more... alternative of the young Ponyville citizens teach the Cutie Mark Crusaders, Diamond Tiara, and Silver Spoon a lesson about friendship?
Warning: Contains lemony narration and 120% of your daily dose of sodium.
Coverart by Bootsy Slickmane
Russian translation by wing regent and LunReaper/Лунный Жнец:
Chapters (1)