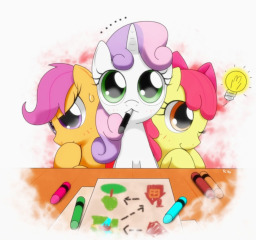 Source
When Cheerilee plans a chaperoned trip to Manehattan, with Big Mac being the only chaperon, She decides to separate the Cutie Mark Crusaders and pair each filly with another of their class to allow them to socialize with others.
She assigns buddy groups and tells them they have to stick together no matter what. So why then would she put these following fillies together?
Scootaloo teamed up with Diamond Tiara.
Applebloom and Twist partnered.
Sweetie Belle and Silver Spoon are paired up.
Let the chaos ensue.
Sort of Gift Fic/Challenge Fic for: Ijab
Proof Reader and Editor: SolidFire
Minor Proof Reader and Editor: Rain Walker
Art by: hoyeechun of DA
Also so there is no whining, there is one predetermined couple which is spoiled first chapter... you have been warned!
Chapters (7)