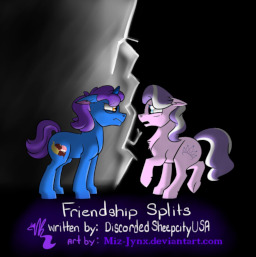 Beauty Split was looking forward to the move to Ponyville and getting to spend time with her old friend, Diamond Tiara...Until she sees that Diamond has changed for the worse.
When Diamond Tiara's old friend, Beauty Split, moves to Ponyville, she would love nothing more than to reconnect with her old friend...
Until she discovers that Diamond isn't acting the same as she had been before.
Thanks to BanditThePonyDog, Texus, Raiden jaeger for pre-reading and giving their opinions on Beauty Split.
Cover art from: http://miz-jynx.deviantart.com/art/Friendship-Splits-493312983
6/11/14- FEATURED! THANK'S EVERYPONY :D
Chapters (6)