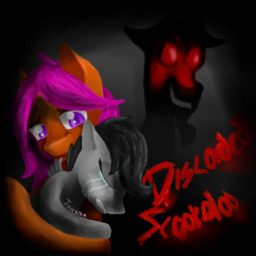 "The most terrible poverty is loneliness, and the feeling of being unloved"
Cover art by the very talented Jayesixx
Watch the fic trailer here. Just copy and paste this into your address bar:
http://animoto.com/play/hnf0IY8z6c5BnCFN4tamKA
Now with a prequel story!: "Ask Lovey Applebloom"
My name's Scootaloo.
At the moment, I've only got one purpose in life, and that's playing the part of a chicken. That's it.
My master keeps me in a chicken coop in the Everfree Forest. In other words, my personal tenth level of Tartarus. But, such is the life of a chicken I suppose.
Oh and to top it all off, I keep getting grilled by these weird-ass blocks of text that keep popping up everywhere.
So yeah, ask me whatever you feel like...or not. I don't give a buck.
Rated Teen for language.
Sex tag for a later story arc.
This is an "Ask Format" Story, where the readers send in questions meant for either Discorded Scootaloo, or Discord himself. Send questions in the comments please. Will have a few story arcs as well.
Due to site moderation rules, questions will be kept anonymous. But those of you that get your questions answered, you know who you are.
Disclaimer: If anything Scootaloo says sounds hateful toward whoever is asking, don't take it personally. It's SCOOTALOO talking, not me. I love all of you, and she hates all of you. Simple as that.
Also, this Discord is based off of the Season 2 Discord. As in, when he was still evil.
Chapters (17)