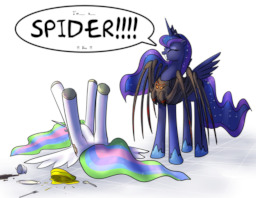 Source
When Luna returned to Equestria and discovered the tradition of the Nightmare Night holiday, the moon pony took great delight in the concept of "trick or treat."
Delight that often... ok, always, came at Celestia's expense.
Tired of being the proverbial plot of the joke, Celestia decides to treat Luna to some tricks of her own.
TWO mares can play at this game.
Thanks for making this a feature, guys!
Chapters (1)