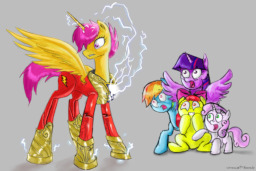 Source
"My name is Scootaloo, I'm twelve years old and...as much as I don't like to admit it...I'm an orphan.
Anyway, something happened to me, I don't know...I got sucked into some weird dimension thingy and I got turned into an alicorn! But it only happens when I say a certain word. This old pony told me that this power should only be used to protect others, and stop something bad that would come back to hurt a lot of ponies. I don't know what's coming, but I won't let it hurt my friends, or anypony, and to those who dare try, I got one word for you..."
Cover art by: NeroScottKennedy
Shazam is the property of DC Comics.
Featured: 12/9/14
Edit: Now with it's own TV Tropes page by Darkness Rising!
Chapters (31)