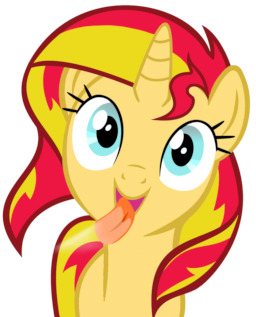 This story is a sequel to Sunset Shimmer's Very Respectable Class Reunion
---
Sunset Shimmer tries her hoof at Equestrian diplomacy. After all, she had an entire high school full of hormonal primate teenagers eating out of her hoof... hand. A bunch of pleasant, sedate ungulates should totally be a cinch, especially with Twilight's help.
What could possibly go wrong?
Yeah.
This time at least, it is very clearly all Sunset's fault.
The awesome cover vector is by Umbra-Neko (who also has a whole gallery of similar vectors with different ponies) and used with her very kind permission.
This story can be enjoyed without reading its prequels.
Rated Teen and Sex for mentions of egregious sexual irresponsibility. No actual sex.
Contains minor (Pony) SunLight shipping. I'm sorry, I can't help it.
Chapters (1)