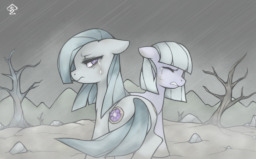 Source
*WRITTEN BEFORE SEASON 4*
After Pinkie Pie discovers her true meaning in the world, she decides to leave the rock farm in search of a better life. However, Pinkie does not only cause distraught for herself from her sudden departure; Inkie and Blinkie must also cope with their misery after saying farewell to the only pony they knew that could make them smile. Sometimes saying goodbye to the life you're leaving behind is harder than beginning a new one...
A sad coming of age/saying goodbye story.
Set shortly after Pinkie Pie got her cutie mark.
Cover art by: Soulspade
Chapters (1)