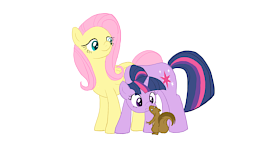 Source
Fluttershy has a crush on somepony, and her best friend wants to help her with her love life. Will she make it or will she be too shy to confess? Warning: contains femslash. If you don't like it, don't read it! There will be some AppleDash in future chapters.
This fic isn't part of She Knows How to Treat a Lady and its sequels.
Original pic belongs to IraeCoal, here's her dA, make sure to check her out, you won't regret it!
Sequel its now up! A Bell's Sonata Magic of Love Part 2
Chapters (15)