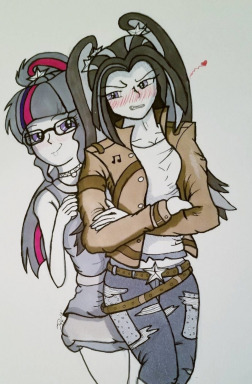 Source
Edit 10-30-18: Added an AU tag. This is because of the Dazzlings being reformed between the event of Rainbow Rocks and this story

On the next day after the end of the Friendship Games, Twilight starts the slow healing process from her corruption. Unsure if the students she met at Canterlot High are her friends or not, she seeks to spend the weekend reading with the company of her beloved dog, Spike. However, her plans are interrupted when the unexpected happens. Twilight meets someone who appears to know her and is not a pleasant encounter.
This is a story I have been planning for a while and I'm really excited to finally be writting this strange pairing!


I hope you enjoy this story! I'm putting my heart into it


Special thanks to:
Zalla661: He not only edits the chapters, but he also provided me with a cover for this story!


Windsor: My brother in arms. He provides ideas and suggestions

---
---
Chapters (38)