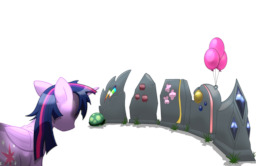 Source
We all have that someone or a close group of people who connect us to the world, but what are we to do when they're taken from us one by one?
Such was the case with Twilight and her friends.
A couple of years after becoming a Princess she had to deal with losing a close friend of hers every few years or so, but things are easier when you have the ponies you can share stories with about the one who passed.
Pinkie leaves one last letter to Twilight asking her to be strong in the knowledge that they would all be re-united someday, and that her friends would all be awaiting that day.
Chapters (1)