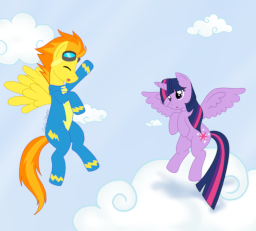 Twilight Sparkle can't fly. She's tried as hard as she can, but she can barely lift her hooves off the ground without smacking her face into something. Rainbow Dash has tried to teach her a thing or two about it, but it only leads to failed attempts and frustrated antics.
Princess Celestia decides that this will not do. A princess who cannot fly is not much of a princess at all. She asks the captain of the Wonderbolts to remedy the problem before the public learns of Twilight's shortcomings. As they spend more and more time together, Spitfire and Twilight will forge a bond far stronger than that of a simple student teacher relationship.
---
The cover art for this story was commissioned from a very talented artist on another site by me.
Chapters (5)