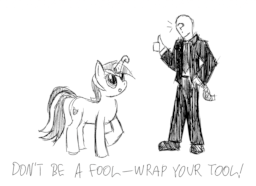 Horns are a dangerous weapon. You can't just wave it around and use it willy-nilly. You need to be careful. You must use your horn safely. Anon goes on a journey to ensure that horns in Ponyville are properly protected.
---
Written for The Barcast
---
This story is contained in my book "Dash Tries to Win Your Heart and Other Short Pony Stories"
If you have interest in purchasing this non-profit book, check out my online store at this link: https://www.lulu.com/search?adult_audience_rating=00&q=flutterpriest
Chapters (1)