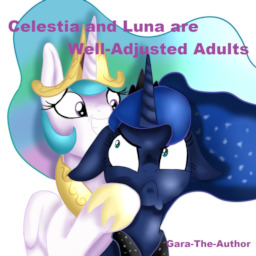 Source
Equestria has thrived for millennia, led dutifully by its diarchy. Only the most capable and qualified of ponies can be responsible for such a bountiful legacy.
...
Right?
---
Cover Art by Jbond92
Proofread by my fantastic friends Rose Quill, Nova Quill, Heartshine Quill, RoMS Quill, Undome Quill, Regi Quill, and Wishcometrue (sadly she lacks a quill)
If you enjoyed this fic and are a fan of Fallout Equestria why not check out it's spiritual sequel, Fallout Equestria is a Very Serious AU. Also check out The Enchanted Library: The Secret Chapters and The Clocktower, three other spin-offs of a similiar vein.
---
"What the fuck did I just read? And why am I smiling?" - Corejo
"In any case, stories with the diarchs being generally horrible people are a hard sell for me, but this does such a brilliant job of crossing the line twice (or some much, much greater even number of times) that I'm eagerly looking forward to more." - FanOfMostEverything
Chapters (18)