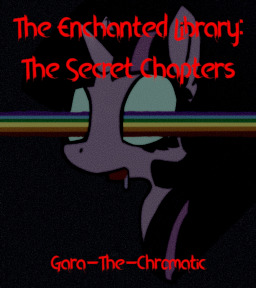 Once upon a time there was a ghost writer, whose ideas were so revolutionary, that the dastardly sorcerer, Single Colour, banished her to wander the manual approval queue for the rest of her days. Thankfully, the ghost writer realized she could just get something else approved and she'd get auto-approval privileges. So, for the first time ever, enjoy The Enchanted Library: The Secret Chapters.
---
Written for Monochromatic's RariTwi Bomb. If you liked this fic, then you should check out Undome Tinwe's, he's dumby thicc but he writes good stuff, including this fic.
A spiritual spin-off to Celestia and Luna are Well-Adjusted Adults.
A parody written with the permission of Monochromatic, she's awesome and if you haven't checked her out, for some bizarre reason, do so.
Proofread by Undome Tinwe, the last of the Romans, Nova Quill/Firimil, my coolest mom, Rose Quill, my Lady from another fiefdom, and of course RoMS, the Napoleon IV of FimFic.
Cover Art by LilFunkMan, who very awesomely allowed me to fiddle with their art.
Chapters (6)