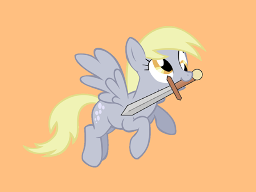 This story is a sequel to Discord Underground Talk Radio
---
Everypony knows that there is no such thing as a zombpony. And there is certainly no such thing as the alicorn prince of war who was banished to another planet for being too violent. And there is most definitely not an army of ponies on that other planet waging endless war against an army of undead. And there never was a group of four ponies that almost ended the war forever. That's all just a dumb story that Discord made up for his radio show.
Never the less, Discord tries his best to convince three fillies that it is all true. This is an account of all of these things, as told by Discord.
As one might expect, this story contains some morbid humor and a bit of violence. It does not, however, contain anything that is considered 'gore'.
Chapters (5)