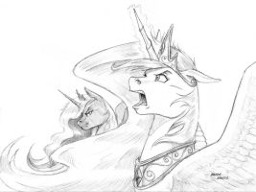 Source
Princess Twilight Sparkle has recently returned from a diplomatic mission to Gryphonstone. While she has gone beyond the borders of Equestria many times in the past, this is her first official state visit as a princess.
As a way of celebrating her success Princess Celestia hosts a tea party, during which the other monarchs of Equestria share stories about diplomatic blunders. These include Cadance's bout with Saddle Arabian purity laws, Luna's near beheading, and Celestia's ordeal with limes.
---
Cover Art is done by Baron-Engel.
Edited by Tempus.
Written for Aragon's Comedy (Is Serious Business) Contest under the prompt, we learned something political.
Sex tag is for sexual language/references and not actual sex, death tag is for mentions of death, and dark tag is because it does get a lil dark here and there.
Now with a Russian Translation!
Oh hey, this fic got featured on Episode 210 of Pony 411. That's kinda super cool.
---
"That said, Luna's story is hysterical, and there's some great sexual and relationship comedy in here. Worth it, on the whole." - PresentPerfect, Recommended for Laughs, Febuary 28th
Chapters (1)