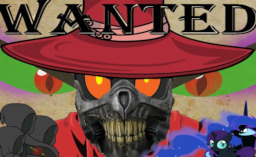 Source
This story is a sequel to The Life of a Wanted Changeling Season 2: Debt to a Doctor (Comment Driven Story)
---
It's been a month since the events of "The Life of a Wanted Changeling Season 2: Debt to a Doctor" and you, Bugze the Changeling, have been avoiding large settlements to avoid confrontation. After being sent to an Alternate Universe where, without the Doctor's presence, you became a monster and destroyed the world, you have vowed never to become the beast you fought.
Also, you have avoided using your immense Nightmare powers to avoid harming Selena, the mare formerly known as Nightmare Moon, who resides in your head. Injured while protecting you, she is quite literally a shadow of her former self and comatose. You and your Alicorn daughter Nightshade (whom you somehow had with Selena) have wandered around the fringes of towns because until you can use your powers again, you cannot hunt down the Crimson Knights, the radical splinter group of your fan club The Horde.
You know your days of inactivity are numbered however, because you are Lady Luck's punching bag, and trouble always finds you in the end. But there's no way it'll be too bad when it does happen right?
...
Right?
The third installment of the Life of a Wanted Changeling Series!
Now edited by BrownDog77, check him out!
Warning: The Re-cap is pretty lengthy (if you couldn't tell). If you already remembered everything that happened from last season please just read the Author's Notes. Thank you.
Chapters (92)