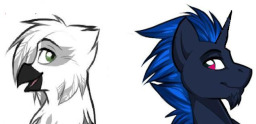 This story is a sequel to Horn And Wings
---
Cromach is a griffon soldier who, as many young ones do, suffers from being too smart for his own good. He coasts through life until the point when he breaks one of the fundamental rules of Griffon Imperial Legion and gets punished for it. Unfortunately for him, the punishment for said transgression is death. His only choice now is whether his is going to be slow and torturous or quick and painless.
Too dark? Well, it's not that bad. According to books and movies it is possible to survive in the desert and return to normal life, right?
Too bad none of that matters because this story isn't his.
Chapters (30)