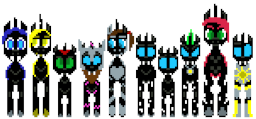 Source
This story is a sequel to An Exercise In Management
---
- Huh, featured on 27.11. by chapter THREE. I smell black magics!
The little drone who made his way into becoming the loved and respected boss of his tiny hive has been through a lot, good or bad. He found friends, purified the hive mind of furious and toxic echoes of the ancient changeling rulers, and even earned respect of Chrysalis herself (well, the echo of her imprinted inside the hive mind).
He was so close to building peace in the big city of Las Pegasus as a scary and somewhat sexy tourist attraction (love and lust go hoof in hoof, of course), but in the end Celestia's paladins found him and his friends, deeming them a threat to Equestria which had to be purged with no mercy. Unable to help protect his hive due to undergoing physical metamorphosis into a proper king, he was left in the care of Eight, and carried off who knows where along with his cocoon while the paladins rampaged through their hideout.
Now his hibernation is over, and it is time for the boss to either find anyone who might have survived, or enact his revenge on the paladin leading the hunt for him - Star Trail.
(Suggestions or any comments are always welcome.)
Chapters (37)