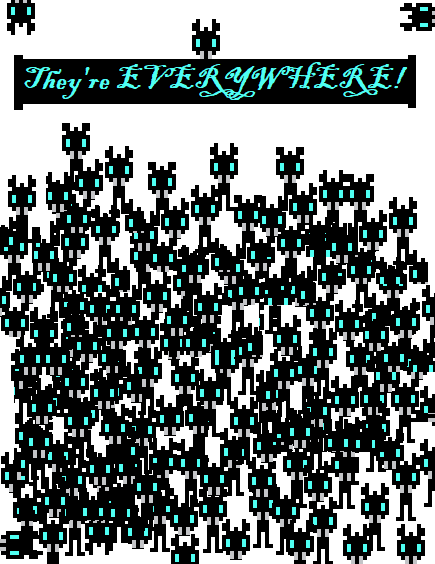 Updates: Weekly, hopefully.
Don't think about this too much, it hurts the squishy sponge.
WOO, FEATURED! 18.1.2020
EDIT: Added a character cheat sheet in the bottom of this section due to requests.
The only thing that's known about changelings in general is that they came from the Badlands and that they eat love. Oh right, and that their queen is evil, cool, and certainly does not star in some of the wilder pony dreams.
Not much, is it?
The thing is, it's not as if they know too much themselves. For example, how many of them there really were? How many of them survived the invasion? How silly was it to attempt to disrupt princess Celestia's cake supply?
No one can fully answer such burning questions. Only one thing is for certain - they're now everywhere, and they all have their own stories to tell, some long, some short, some violent, some silly, some happy. Changelings all over the place.
Not every creature minds, though.
--156,387--
156 - infiltrator, F, hive loyalist.
387 - warrior, M, knows strangely too much.
918 - infiltrator. F.
47989 - drone, hit head on rock, a bit confused
559, 791, 2899 - warriors, M
10013, 13887, 19441, 31214 - drones
--1988,9999--
1988 - infiltrator, M, in charge of the lumber camp lings, totally femboy looking.
9999 - currently the highest ranking drone in the hive, involuntary drone Jesus.
36658, 57999 - drone bark meister, drone bark padawan. Definitely not opiate dealers.
13415 - drone, second-in-command after 9999.
17070 - cooking drone, deaf.
20100 - moving pictures drone
54331, 74989, 33125, 65661 - drones
3x Silent
--1313--
1313 - infiltrator, M, breaks easily, is put together easily.
Zamira - F, Blueblood's zebra bodyguard
--65536--
65536 - drone, requires no details here.
Sharp Biscuit - Batpony, M, Nightguard Commander.
Beacon - Unicorn, M, paladin Grandmaster
Pink Sunset - Batpony, M
Gloom - Batpony, F
Night Hunter - Batpony, M
Steel Glimmer - Batpony, F
Chapters (68)