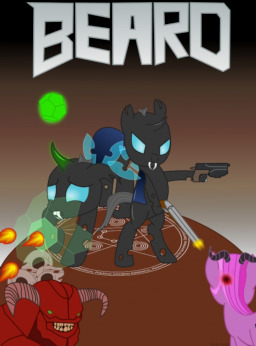 This story is a sequel to Halls of the Changeling King
---
2.9.2019. FEEEEEEAAAATUREEEEDDD!
Updates: Weekly-ish.
The boss and his little hive are back one final time, sticking their chitinous noses where they don't belong on complete accident. Now they'll have to deal with an organization of specialists responsible for purging darkness that would make paladins hide under their beds - Order of the Silver Sun.
Two years after them finding home in the dwarven underground city of Brauheim, a unique opportunity presents itself, the opportunity to make their case and intentions clear to the surface world. Can the group of changelings who previously made enemies in the highest places prove that all they want is peace and...
...okay, to eat love, punch bad guys, and in some cases toy with the minds of ponies.
Let's take a step back. Can the boss finally prove to everyone that all HE wants for his hive is safety and peace?
Chapters (21)