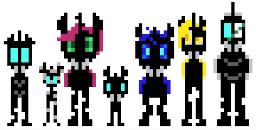 !!Woo, featured on 16.10.2018!! Thanks everyone.
It was supposed to be simple. After drone 200234 learned about the incoming invasion into ponyland's capital city of ponytown, or whatever the thing was called, his only dream consisted of finding a pony to suck (that's what we do, right?). Changeling drones normally don't own anything, nor are they allowed to take love on their own from captured prisoners, that is for infiltrators or warriors (smug buggers). Anyway, a drone's job is to do what it's told. So, this little guy ended up in a much unwanted position of leadership.
How? Well, it started like this...
(Suggestions or any comments are always welcome.)
AU - added AU tag for the origin of changelings story.
Chapters (54)