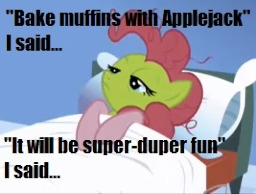 This story is a sequel to Ponies are squishy
---
Catching a cold is nothing new to ponies. It's been a fact since as far back as anyone, even the Princesses can remember, that ponies get sick from time to time.
Thankfully, medical technology and research have made leaps and bounds. Gone are the days when leeches and garlic were used to treat symptoms. Now ponies have state of the art science and medicinal magic at their disposal.
And yet... the secrets of one esoteric, age old treatment continue to evade even the most practiced medical professionals:
How does a "Get well soon" card help a patient more than prescription-grade anti-depressants?! HOW?!
Chapters (1)