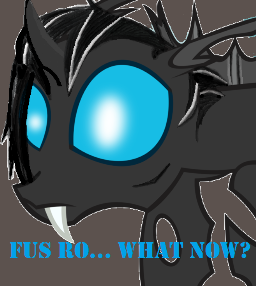 Weeks after the failed assault on Canterlot by the Chrysalis Hive, things are tense in Equestria. A lone changeling looking for somepony to feed on is discovered in Ponyville like many often are. But that's where his involvement in Equestria ends, for his adventure in Skyrim is about to start.
Sent to a new and frigid land where people can be as cold and unforgiving as the weather, this changeling will find that all is not well; a civil war threatens to tear its people apart, dark forces work in the shadows to gather followers and waiting for the opportune chance to strike, and an ancient prophecy is about to be realized, as Alduin the World Eater returns to raise an army of his dragon kin to destroy all of Nirn.
But all is not lost, as the Dovahkiin, dragonborn hero of legend, is on a journey to fulfill her destiny, and save the world from Alduin's wrath.
Who better for out changeling to join up with.
Read on as their tale unfolds.
=====
A long needed rewrite/ revision of my first attempt at a story, A Changeling's visit to Skyrim.
9/15/17: Changed title from the way too lengthy original "Escapades of a Changeling Soulstoke: Skyrim".
Chapters (23)